August 23, 2023
SCHA Out and About Vol. 1
Our inaugural post in this new series features SCHA President & CEO Thornton Kirby, who visited five different member hospitals over the course of last week.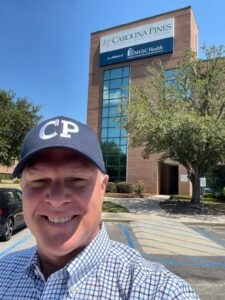 My first stop was at Rebound Behavioral Health in Lancaster, where I had the pleasure of getting to know the new CEO, Alli Marion. Alli came to South Carolina from Ohio, and she gave me a great tour of the very peaceful campus. We shared our experiences trying to improve behavioral health care, and I'm excited to get Alli involved in SCHA's work!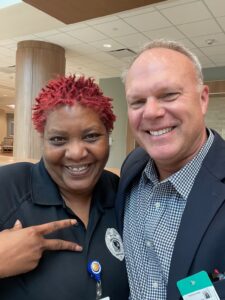 My second stop was Piedmont Medical Center—Fort Mill. This is a brand-new hospital, and you may recall it was the subject of a decade-long CON battle. But that's in the past, and I can attest this facility was worth the wait! I met with CEO Chris Mitchell and new Market CEO Teresa Urquhart, who replaced Mark Nosacka last week following his retirement. Chris and Teresa led me on a tour of the new hospital, and it's always interesting to see what architects and designers learn from existing facilities. They had some great innovations and, most importantly, the staff was the friendliest I've ever met. What a welcoming team!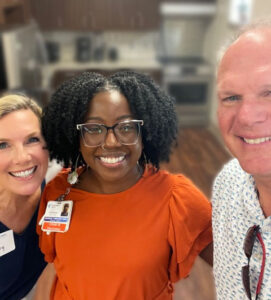 The next afternoon my wife Sarah and I had the pleasure of visiting Encompass Health Columbia's community open house. Sarah's father recently survived an extended hospital stay and then did his rehab at Encompass, so we had a reunion of sorts. They even featured him as a success story during the event! Nicole Woods and her great team of physicians and therapists restore people's lives every day, and it was great to celebrate with them. (Note: The rehab hospital sector is growing in our state; South Carolina now has at least a dozen freestanding rehabilitation hospitals, several of which have opened in the last two years.)
On Friday, I started my day with a visit to Carolina Pines Medical Center in Hartsville. CEO Bill Little rolled out the red carpet, as always. This time he even gave me a cap! Bill and his team have built a very successful stroke program, and it was encouraging to hear what a difference it has made in a county with very high rates of cerebral vascular disease. Their team is working hard to reduce disparities, and I look forward to engaging him in our work to improve health equity as part of our new strategic plan.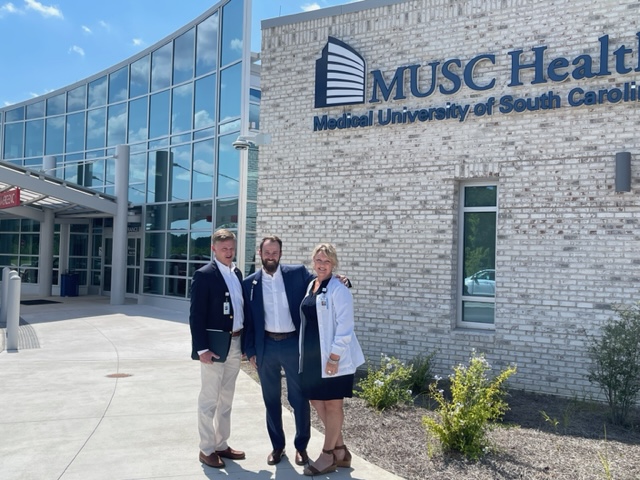 I closed the week with a visit to the new MUSC Health Black River Medical Center. CEO Allen Abernethy and Market CEO Jay Hinesley gave me a tour of this new and innovative rural hospital, and I drove home with a head full of ideas. One of the most interesting innovations was to build a hospital with only one entrance, for security purposes. When you enter the front door, you are immediately greeted by a registration desk that serves the emergency department as well as the inpatient side of the facility. In light of labor costs, having a single point of registration, and only one door to secure, is already proving to be a great idea. The Black River hospital replaced Lake City and Williamsburg hospitals, both of which had outlived their useful lives. Well over 90% of the employees of those two previous facilities found jobs with MUSC, and I could sense the gratitude and enthusiasm for this new facility as I met the staff. Kudos to Allen Abernethy and his team!
I have a lot more visits on the calendar, and I look forward to sharing stories as I travel. Cheers!
Share This Article