May 20, 2020
HPHC Coalitions Respond to COVID-19 With Food Drives
While South Carolina hospitals are on the frontlines of the COVID-19 epidemic in caring for those who fall ill from the virus, the Healthy People, Healthy Carolinas coalitions (which are supported by The Duke Endowment and the SCHA Foundation) have been responding to the dramatic economic impacts of lockdown protocols. These coalitions, which involve leaders from a wide spectrum of community organizations, are normally tasked with engaging residents in improving their health in specific areas (healthy weight, diabetes, heart disease, etc.), many of them swung into action when they saw their local residents struggling.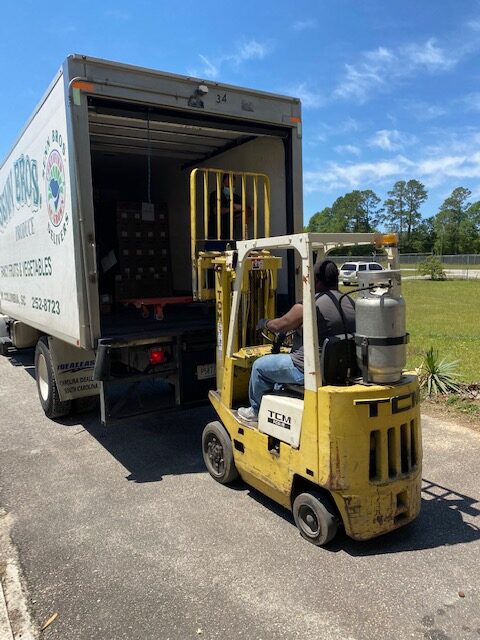 At Trident United Way in Summerville, a Fresh For All food giveaway in partnership with Lowcountry Food Bank and Healthy Tri-County fed more than 1500 people.
"This was a perfect representation of not only Summerville, but Dorchester County and the Tri-County is experiencing right now," said Erin Pfaff-McDonough, resource connection manager for Trident United Way. "There were folks in line who never have been to a place like this or receiving services like this."
Demonstrating how great the needs are, while the event was supposed to start at 10 a.m., some people lined up in their cars outside the facility around 7 a.m. Over in Barnwell County, the local Eat Smart Move More (ESMM) responded with a similar food drive.
Their effort started when a local business owner, Jason Hasan, who owns a Cricket Wireless franchise, approached Mayor Marcus Rivera, who helped him partner with the ESMM coalition. Ultimately, more than 50 volunteers assisted Hasan in providing everything from bottled water, cereal, milk, and fresh produce to diapers, wipes, books, and hand sanitizer that provided for a crowd of 627.
In Dillon County, the Northeastern Rural Health Network also tackled food access with a FoodShare Food Drive with the support of the One SC Fund. The Network helped coordinate the event in partnership with Dillon County Health Initiative and FoodShare SC. Targeting seniors in the community, the Drive saw coalition members assist with bag packing and home delivery for those most at risk from COVID-19.
While each coalition has freedom in what approach to take, the crucial first step—and one that is funded by The Duke Endowment's grant—is to strengthen the infrastructure of the local coalitions that are coordinating the effort, so that they're well-positioned to identify and implement interventions that work.
"Our HPHC coalitions have been uniting their communities together to confront health challenges for years now," said Angel Bourdon, Innovations Manager at SCHA. "They were in a prime position to gather partners and tackle the emergent needs during this crisis, and that's exactly what they are doing."
Share This Article