April 18, 2023
From Volunteer to MD
Growing up in small-town South Carolina, Samantha Rikabi, who is set to graduate from the Edward Via College of Osteopathic Medicine this spring, was one of those kids who just knew what she wanted to be.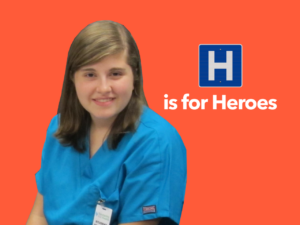 Kind of.
"When I was 14, I decided that the medical field was the direction I was heading in," the Newberry native recalls. "I like the idea of being in charge, of being the one in the room everyone looks to."
Samantha didn't come from a family of nurses or doctors–her dad worked as a supervisor at the nearby factory, and her mom was a homemaker–but she had already had brief experiences with the medical world. As a teen she helped care for her elderly grandmother, and she carried harrowing memories of her younger brother suffering from Febrile seizures when he was born.
While such episodes do not lead to epilepsy, they can be difficult to watch, particularly because the patients are so young.
"He fortunately grew out of it, but it made a big impact on me," she says now. "I didn't like sitting there not knowing what to do other than call emergency services."
So what does a kid with an interest in healthcare do? Enter Newberry County Memorial Hospital's Volunteer Program.
Samantha first started volunteering at the hospital the summer after her eighth grade year, and found a warm and welcome place to foster her growing interest in healthcare.
"Miss Angela (Volunteer Coordinator Angela Bowers) is just amazing. She was super-receptive to giving me lots of options, wherever I wanted to go."
Samantha started in the operating room first ("that seemed like the coolest thing as a kid") before moving to physical therapy, where patients are treated post-surgery, and then to ambulatory care, the final stage before a patient is discharged, over the course of her high school years.
And while she learned plenty about patient care, she also got an acute sense of how healthcare workers function with each other, talking and communicating in an effort to keep the patient at the center.
"They're always communicating with each other–even when a patient leaves one floor to go to the next, everyone's still concerned, checking in on them, because they are still a patient," she says.
Samantha says volunteering quickly gets a young person more comfortable in that kind of setting and gave her confidence that she could thrive in her hypothetical career path.
"I was able to get a lot of exposure and feel more adult and mature [in that setting]. It's a whole different setting than being at school, kind of being around individuals with likeminded interests. It really gave me a lot of exposure at an early age and helped solidify my direction."
She gives much of the credit for the impact of the volunteer program to Bowers, who was not only an administrator and friendly face, but also served as a valuable guide, mentor and confidant on their individual journeys.
"She was like a mama bear, she made you feel like part of the family there," recounts Samantha. "I think she would say that about any of her volunteers, that they are like her children."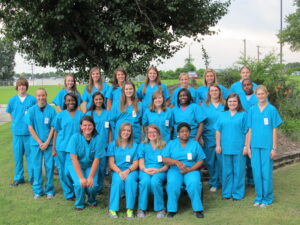 The then-volunteer would go to pursue her education and experience bigger, more impersonal hospitals, but it's clear that she thinks back on working at a facility from her own small-town community with fondness, as well as her first mentor in the field.
And that's in part because, at the end of the day, healthcare is about people–both the people who work in the field, and the people they care for.
"You see people at all different stages of their lives, at their weakest moments. It's very humbling," she says near the end of recalling her experience as a volunteer.
"You realize this is what life is about. Life is precious."
Share This Article